Verihair experiences
Verihair hair and scalp care case studies were undertaken to ascertain the effects of our unique natural formula. What we found, is that it affected our participants in different ways. However, the one thing they all have in common is how Verihair helped each of them. Each participant experienced their hair being fuller, softer, thicker and shinier, and their own Verihair journey also helped their emotional well being. What was important to note with our participants was that they were from a wide range of backgrounds with different hair and scalp needs.
Case Study
Rebecca T. (Medication side effects)
It's so horrifying to loose your hair, especially as a woman. My hair loss was due to a medication and I wasn't optimistic that an essential oil could reverse the condition but over several months my hair began filling in! I had little baby hair growing everywhere, even around my hairline. I will never be without this oil again and am so grateful to Elda for her help!! Thank you so much for figuring this out Elda. It's been a real life changer !!!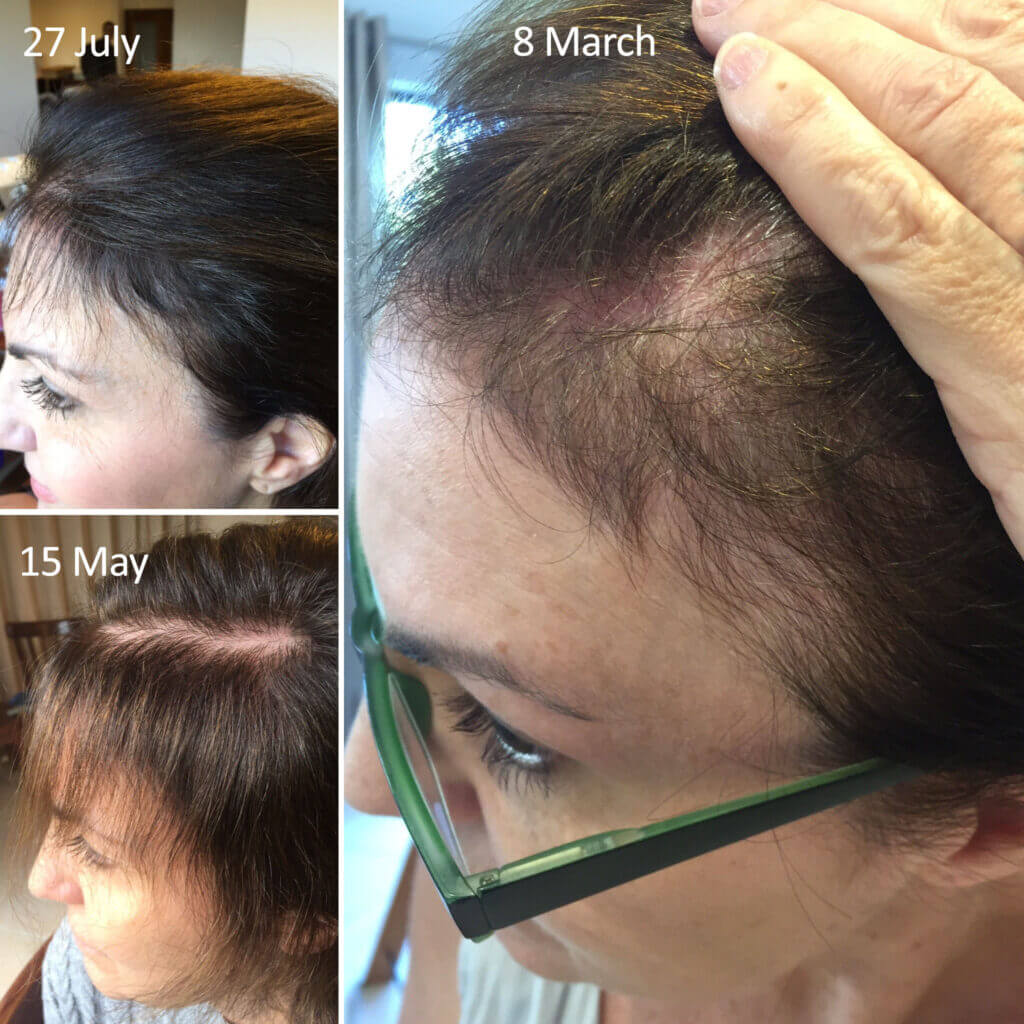 Case Study Michelle E. (Breast Cancer Survivor)
"Three years ago I was diagnosed with breast cancer… what I got out of the hair products wasn't necessarily about just the hair growth, it was the, how I felt using the hair products. The smell of the products were just, invigorating. Every time I'd have a shower, I'd use the hair products. The actual growth was second to that for me. It was how it made me feel…just that confidence again to wear my hair out and not have to wear something over it, not have to wear a wig."
Case Study Dana P. (80 Years old)
"My name is Dana, I've been using Verihair oil for my hair. I was getting bald on the top of my head and on the side here. I had no hair. I am so proud, I couldn't believe my eyes. And on top of my head it was all baldy and now I've got beautiful hair and I am 80 years old and I'm proud of it."
Case Study Christine Jones (Mother of 3)
"I've had very thin hair for a long time and after having children felt even thinner. My hair had no body and was very brittle. Since using Verihair for the last 6 weeks, I have noticed how much thicker and healthy my hair and scalp feels. Even my hairdresser noticed and asked my what I was using to get the improvement. For the first time since my 20's, I can grow my hair past my shoulders as my hair isn't brittle and doesn't break like before. I have tried many products but have experienced the most improvement with Verihair. I love how my hair feels and looks now. Thank you.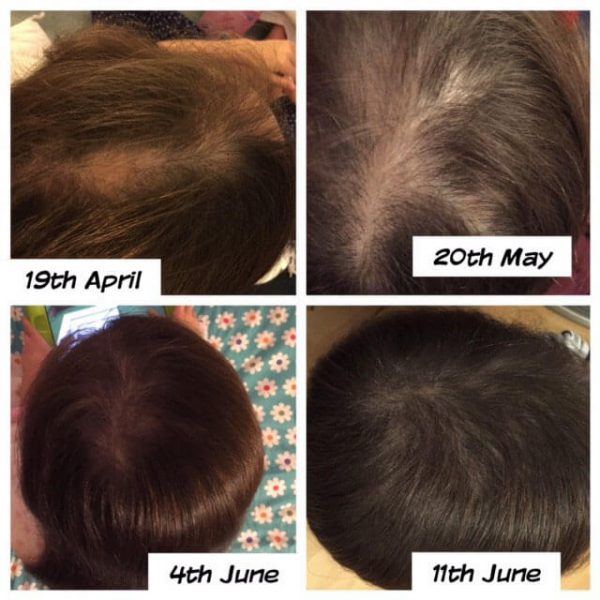 Case Study Child 6 Years old (excerpt from parent email)
"Thank you so much for helping us. I do hope the photos and observations can help you help others too. I was devastated to think that (child's name withheld) would have to go through life with bald patches on her head and I will never take a healthy head of hair for granted again. So I truly do hope this oil can work for others too. I agree that it has grown back in beautiful condition. It felt thick and shiny when I was brushing it tonight. I can't believe how quickly it has changed- when you look at those first two photos- which were only taken about 6/7 weeks ago! "Wow!!! I went to my hairdresser today and showed her the comparison photo and she couldn't believe it."
Case Study Fiona P. (Thinning hair)
OMG verihair, just do it!! I have always had very thin hair and into my 40's it seemed to thin even more so, when I tried Verihair I was expecting lustre, softness. shine…. thicker looking hair, like the products that add 'volume'. What I didn't expect was the shock I got after a few weeks of use. Running my hair my fingertips through my hair I felt prickles… yes prickles…new growth coming through strong and fast, within a matter of months I had a hairline back where it had almost disappeared from and the temple sparse patches were no longer a thin covering of hair. My scalp was no longer obvious in these spots… There was only one downside, which I did not expect… I'd had 12 months of IPL to remover hair from 'other' areas… seems that washing Verihair off meant it cascaded everywhere else and viola, hair started growing back a little too rigorously for my liking!!! Another thin I love about Verihair is the smell.The blend of oils is just fresh and yum. It's kind of weird to say this out loud, but using Verihair is not just another hair product, it is also the intention that goes into this product, it's a healing experience. I get 3 months use per bottle and consider it a necessary investment. I start to panic a little when the bottle gets low. This stuff is magic, couldn't recommend highly enough.