Hi Elda, finally received my much awaited Hydraskin Elixir today. Have applied it to my face and it has just soaked it up. Smells delicious also. Thank you, Leonie Xx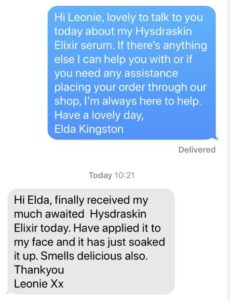 Loving hydraskin elixir, this bottle of goodness replaces the need for all other products, as a night treatment and before makeup each morning!
Must say I love not needing anything else, so glad to find a one bottle replacement for all my lotions and potions, I feel naked without this stuff.
I really think some guys I know could benefit from this, age well with hydrated skin lads!!
Thanks Fresca for the love in this bottle, so great to have something completely chemical free doing its magic?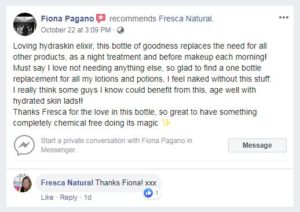 I have just received my latest supply of Fresca products. Delivery is always amazingly quick; Elda confirms receipt of your order (and any notes you may have made) and the whole process of ordering online is very easy. On top of that the products themselves are fabulous. My favourite deodorant is the Valley Rose, which apart from being incredibly effective at ensuring any body odour doesn't stink (!), smells divine.
I have just bought a facial serum hydraskin elixir for a friend who is very much into natural products, and I know she will love it! Wearing this product myself, I have had people comment on how nice I smell, and it's because of the essential oils in the elixir! Thanks, Elda, for great products that don't damage us from the inside out!
I have been using Hysraskin Elixer for 4 weeks now and I am so impressed with how wonderful my skin feels. My skin is supple and plump and feels very healthy. Over the last couple of weeks, I lost track of how many compliments I have received about my skin, with many not believing I am in my 40's. Thank you so much for recommending your product; not only do I love how it feels on my face, I am also thrilled with how much time I save with my skin care regime every morning and night. I will definitely be recommending this product to others.