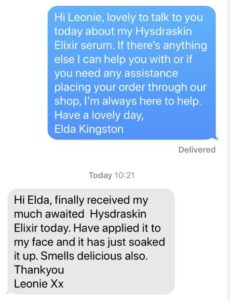 Hi Elda, finally received my much awaited Hydraskin Elixir today. Have applied it to my face and it has just soaked it up. Smells delicious also. Thank you, Leonie Xx
Must say I love not needing anything else, so glad to find a one bottle replacement for all my lotions and potions, I feel naked without this stuff.
I really think some guys I know could benefit from this, age well with hydrated skin lads!!
Thanks Fresca for the love in this bottle, so great to have something completely chemical free doing its magic?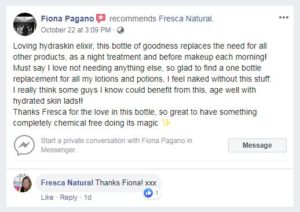 Loving hydraskin elixir, this bottle of goodness replaces the need for all other products, as a night treatment and before makeup each morning!
I love your products. Thank you!
I love the facial serum and already my skin feels like velvet. Fantastic!
I have just bought a facial serum hydraskin elixir for a friend who is very much into natural products, and I know she will love it! Wearing this product myself, I have had people comment on how nice I smell, and it's because of the essential oils in the elixir! Thanks, Elda, for great products that don't damage us from the inside out!
I have just received my latest supply of Fresca products. Delivery is always amazingly quick; Elda confirms receipt of your order (and any notes you may have made) and the whole process of ordering online is very easy. On top of that the products themselves are fabulous. My favourite deodorant is the Valley Rose, which apart from being incredibly effective at ensuring any body odour doesn't stink (!), smells divine.
I love the Hydraskin Elixir is hands down the best serum I have ever used. Have got my Mum and sister using it too.

I have been using Hysraskin Elixer for 4 weeks now and I am so impressed with how wonderful my skin feels. My skin is supple and plump and feels very healthy. Over the last couple of weeks, I lost track of how many compliments I have received about my skin, with many not believing I am in my 40's. Thank you so much for recommending your product; not only do I love how it feels on my face, I am also thrilled with how much time I save with my skin care regime every morning and night. I will definitely be recommending this product to others.
Hi, Just a quick message to let you know I am loving your hydraskin sample. It's delicious. Regards, Kelsie
I have been using the Hydraskin Elixir for 12 months. I had a plate inserted from a broken wrist. My scar was painful to touch, the skin was raised and red. Now I can touch it, no pain. It was red and inflamed and looked very obvious. It was strange to watch it heal as I applied the elixir on every day. The scar started changing from one side and then started to heal moving upwards towards my hand. It is definitely not red and thick anymore. With more time I hope it will go away and hardly be noticeable. Thank you.
[Short interview with Julie at our local Kalamunda Markets.] "I have been using Fresca's Hydraskin Elixir for only 1 month now and my skin is noticeably radiant. In particular, my neck feels fresh and I am not afraid to touch it! It feels so much nicer that I am not self-conscious about my neck anymore. My neck is hydrated and not dry and scaly like it was. It looks firm and elastic. Just putting it on has become a ritual and that in itself is comforting for me. I can say with confidence that I look and feel great. It helps me prepare for sleep and falling into slumber is so much easier. I guess it is the lovely fusion of the essential oils in the Elixir. I find this to be a very comforting oil and I am back for more today. Thank you Elda for making such a lovely product.
Dear Elda, Thank you for your prompt and efficient delivery of my orders. I love your deodorant and usually buy it in my local health food shop. My family love your Hydraskin Elixir. Currently it is being used for:- psoriasis, skin infection (feet), treatment of insect bites, two other undiagnosed skin conditions and age related skin deterioration. I'm particularly impressed with the results on my husband's psoriasis which is nearly totally cleared. Well done you. Many thanks. Susan Gammage
I use the Elixir once a day, usually after a shower and have noticed the dramatic difference in the look and feel of my skin. With consistent application of the Elixir, I have seen the reduced appearance of lines on my face, a more even tone to my skin which actually glows (I've literally had friends and family comment on how good my skin looks), and an improved suppleness which I would never have thought possible as I approach my forties- it actually feels like I've wound the clock back to my early twenties when my skin was plump and dewy!)
Who would have thought one little bottle could contain so much goodness for my skin! Thanks Fresca Natural for this wonderful product that makes me feel truly beautiful.
I have been using Fresca Natural Hydraskin Elixir for nearly 18 months and from the moment I first tried it, I was hooked. Not only does my skin feel more youthful and fresh, but the aromatherapy properties of the oils have improved my sense of happiness and wellbeing.
Hello Elda, The Hydraskin Elixir is the indulgence of my day! I use it only in the evening because I prefer sunscreen through the day, but it's truly lovely. I'm in my early 40's and although my skin shows just a few signs of ageing, the Hydraskin Elixir is pure luxury, resulting in well-hydrated skin that is soft and smooth. The 'left-over' on my fingertips I rub into my elbows and that has been truly remarkable! Rough, dry, alligator skin is soft and hydrated! Plump elbows, who would have thought?! All the best, Kylie
As I am into energy healing, I found Elda's product- Hydraskin Elixir resonated to my body. I had gone to the Conscious Living Expo for the first time (2012) and was hoping to find a natural skin product there. As I held and tried the Elixir on my skin, my body indicated that this product was for me. I went home and started using the product and found my skin just absorbed it and before long I was ordering my next bottle. Elda explained that this would happen until my skin settled and then I would use less and less. That is what has happened and my skin feels lovely. I just love the simplicity of the product and also the fragrance. Thanks Elda, Lynne, Grass Valley
Best regards and many thanks, Jacqueline
Regarding the Hydraskin Elixir, this will be my second order. I like how hydrated my skin feels and looks since I've been using it, and particularly like that it turns my ghastly creases into far more agreeable and quite simply "lines". Your deodorants are fantastic too. I'm a fan and try to share the news whenever possible- many thanks for coming up with something that actually works!
I have had lovely results with the Hydraskin Elixir. It has improved the wrinkles around my eyes and forehead and my skin is so much softer. I love the smell. My skin doesn't feel dry anymore.
When I placed an order some weeks ago, you also sent a sample of the Elixir. This product is absolutely amazing. My skin is not as "young as it used to be" plus living on the farm with the sun and harsh wind is not very kind to it. After cleaning my face before bed and then applying the Elixir, it is very hard to describe except it feels soft and nourished by the morning. I find it very easy to handle and apply, not at all oily, just a feeling of well-nourished and soft. The wrinkles seems to be less in depth and less of them.
The sample in today's order I will share with my sister. Once again thank you very much.
Dear Elda, Just a very quick note to thank you very much for the very quick service in receiving my order. It arrived today after a long weekend when it was ordered on Monday. To get a parcel to Pingelly in that amount of time is unbelievable.
I would have no hesitation in recommending this product to other consumers, especially those with a similar skin type- mature, to mine. Regards, Amanda Cook.
I have been using Fresca Skin Serum (Hydraskin Elixir) since November 2012 and have experienced significant improvement regarding facial skin discolouration's also known as age spots. I have a mature skin type and the Skin Serum is a delight to use, replenishing my face and neck region beautifully. It does not leave an oily residue, but leaves my skin feeling rehydrated and fresh. The creases in my neck are less apparent now and I would say the results are incredible.

Simply the best face oil we have ever come across. Being advocates for natural and unadulterated products we were delighted to try these oils. After just 4 weeks of use I recognised my mum's smooth complexion and that was through our Skype chat whilst I was living in London! I noticed what an incredible difference the Fresca oils had made on her skin. Thank you!
Love the elixir. Really helped with the skin on my neck- has smoothed out my 'turkey' neck. Love it very much.

I'm almost 53 years wise and waited very long for something nourishing for my extremely sensitive skin. First I was a bit concerned, because I got allergies from other facial oils, but one day I used the sample and it was just sensational. My skin drinks it up and after a while I noticed that little wrinkles, especially around the eye- and mouth area almost disappeared.
The skin looks healthier and just glows. Thank you very much for this wonderful product. I also shared samples with my friends and they love it too.
Kindest regards from a very happy Ulrike Kennedy.
I wanted to write already earlier, because I'm so excited about the Fresca products. I love the deodorants, but the best for me is really the wonderful Hydraskin Elixir.
Hi, I am just writing to let you know that I received your beautiful deodorants last week and your lovely elixir… thank you so much for the sample. I have been using it and really loving it. We are so impressed with your gorgeous deodorant and will definitely be returning customers. Good on you for creating such a divine product! May your business thrive with success. Thanks Again, Jo xx
My skin is feeling safer and more refreshed. It has also cleared up a dry patch on my chin. I've also been putting it on the upper chest area that is exposed to the weather when wearing v neck tops. That is looking much better and no longer dry. I also love the deodorant. I've been using it for more than a year and didn't worry about smell once throughout last summer. Keep up the great work. Cheers, Suzanne

I was amazed at the instant change in my skin! Having tried many of the top brands of moisturisers which often gave me pimples or I felt I had to re-apply a couple of hours later. This beautiful product is light but leaves my skin feeling plumped and hydrated for hours. I absolutely love the change in my skin and drove to the markets today to get some more!
Fantastic product! Light and refreshing. I look forward to putting it on. The smell is perfect. Not too strong. Uplifting and comforting. Great stuff!! I also use the deodorant. Brilliant.
Hi Elda, Just wanted to say how wonderful I think the above product is (21 Oils Hydraskin Elixir) – don't know if you remember me but I bought some at while ago at the Kalamunda markets and really missed it when it ran out so ordered online. I've found it makes my skin much less 'dried out' looking especially on the neck and absolutely smells divine….. it has also helped with dark sun damage spots on my face. With warmest wishes, Hollie Kelli www.perthchoolofreflexology.com.au Mob: 040506 4404
Thank you Fresca Natural to give me an opportunity to buy your product. Kind regards, Krystyna
Dear Fresca Natural, I would like to share my experience of using 21 Oils Hydraskin Elixir. I'm so happy that I could get to buy this product from you. 21 Oils Hydraskin Elixir is a 21st CENTURY NATURAL PRODUCT! From the very first application I have noticed my face and neck skin looking radiant, hydrated and the most important is looking healthy YOUNG!!!
I absolutely *LOVE* this elixir. I have very dry skin, which was lovely when I was young, and now wrinkles. I have used the elixir every day for a month and my skin feels wonderful, soft, non-greasy and looks younger. Lovely smell as well. Love it!

After seeing the results on my face, I thought to put it on my eczema which is in my bottom, such a peculiar place to have eczema and extremely painful. I read the label and decided that it is natural and I shouldn't react to it. However I was a bit apprehensive to do it. Up to now, I have been using a steroid creamlinaweb2 which worked but I had to put this cream on every day.
Anyway, from the first night I applied the elixir to my bottom area, instantly, I felt the burning sensation was relieved and felt a coolness and freshness in the area. I now apply the elixir to my bottom area every few days as opposed to applying the steroid cream every day and my eczema has not flared up since.
All eczema sufferers should give this product a go, they will find that it will help them as it did me. What a bonus you can use this oil for a number of uses for the body.
My name is Lina and if you post this to your testimonial page I would be happy to be contacted about my experience with the elixir. My contact number is 0417 928 879 and I live in Western Australia.
Thanks Elda for such a beautiful and natural product.
(Pictures- Top- Elixir on face after three weeks and neck no application. Bottom- Photo update: Elixir on face after 6 weeks and neck after 3 weeks)
Hi Elda, The elixir that I purchased from you three weeks ago, has done wonders for my face. My friends have asked me if I have recently had Botox done to my face?! (What a crack-up!) I must admit when I purchased the product, I was sceptical and really didn't think it was going to work. However, I purchased the product because I thought I've spent thousands on other products, so what the heck?
Hi Elda, I have received my order and tried your lovely products. Very impressed. The Fresca Natrual deodorants smell gorgeous and non-sticky when applied. This is a huge plus already. I tried the Hydraskin Elixir last night as a night cream. You are correct that you only need a drop or two. This morning my skin felt so soft and refreshed looking. Love it already. I will keep in touch and if you have any new products coming out please include my email on your mailing list. Wishing you the very best. Well done!! Best regards, Julie